Our History
Located in Wilmington, NC, New Horizons Elementary School was founded in 1983 by a group of parents and professional educators who came together with a vision for a private school that would nurture achievement and personal development in its students. With over a quarter-century of experience and research, our school today is the product of elements we have found to be crucial to the country's most highly effective schools: a dedicated and caring staff, parent involvement, and a comprehensive curriculum that goes beyond the classroom to encourage student growth, both creatively and academically.
Mission
To provide an academically challenging, developmentally appropriate learning environment that prepares our students to be critical thinkers, proactive problem solvers, and self-confident leaders within the classroom and beyond. To instill in our students an appreciation of community and to emphasize the value of showing respect and consideration for the rights, feelings, and property of others.
Our Philosophy
New Horizons Elementary School was founded on the principles of teaching through a whole child approach and as such, strongly believes in the pursuit of academic excellence, while also recognizing the important role of character development in early childhood education. We celebrate our students' individuality and encourage them to embrace not only their own unique attributes but those of others as well. Promoting kindness, respect, tolerance, and citizenship are of utmost importance as we provide an encouraging environment that challenges students to reach their academic goals. New Horizons is a tight-knit community where students, parents, faculty, and staff all work together to create the best learning environment for all of our students to achieve and grow.
From The Director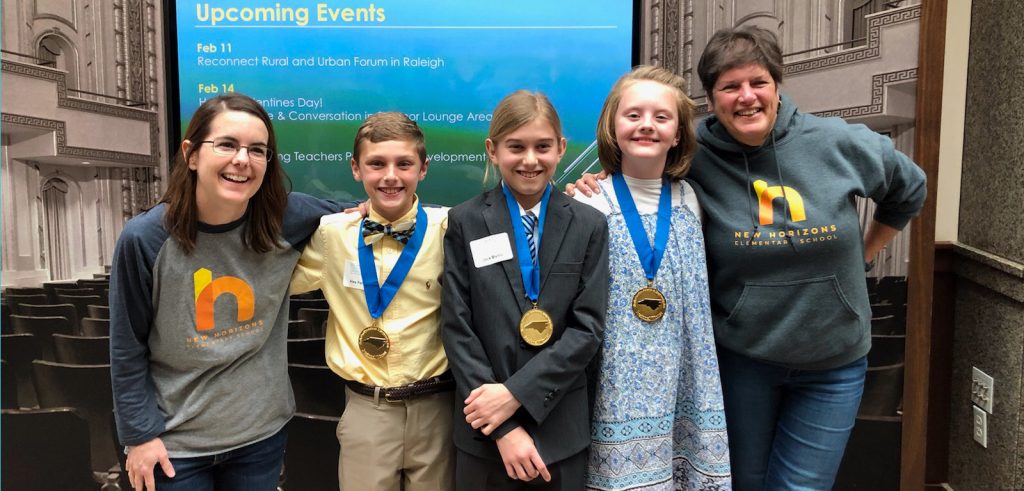 On behalf of our faculty and staff, thank you for your interest in New Horizons Elementary School! For over 30 years, New Horizons has nurtured personal achievement in our students through a whole-child approach that focuses on academic excellence as well as social, emotional, and ethical development. We provide a tight-knit dynamic learning community that ensures personal attention for every student, which in turn allows for their unique gifts, talents, and learning styles to be recognized.
Our dedicated faculty infuses engaging lessons, inquiry-based projects, and technology into a proven curriculum that encourages innovation, creativity, critical thinking as well as proactive problem-solving. Math, Science, Language Arts, Social Sciences, and Physical Education form the core of our academic program within which students are also afforded ample opportunities to explore enrichment courses such as Spanish, Music, Art, and Health.
At New Horizons, we strongly believe in our ability to provide the necessary foundational skills that empower students to become life long learners and leaders, as well as active, mindful citizens who are successful in the classroom and beyond. We welcome the opportunity to be a part of your child's educational journey and look forward to meeting you.
Sincerely,
Donna Clark
Director
Watch Our Video
Explore our school and come learn how your child can thrive at New Horizons.